Check out
MomDot
for the latest question in the Christmas of Dreams Blog Party.

What i
s the most unusual gift you've received?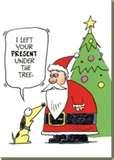 All of the gifts I've ever received have been appropriate, with one exception. I have an aunt who is cognitively disabled. She always bought a present for everyone, but would always mix them up. It was so cute. My brother would get hair stuff, I would get tools, my sister would get pencils. When we got older, like high school ages, she would buy us little kid presents. You just never knew what you were going to get, but you had to love her for it. She tried so hard and she always sat there with such an expectant look on her face to see if we would like what we got.
Wha
t was one of my favorite gifts?
Well, it wasn't actually
my
gift, per say. One year my dad bought my mom a plane ticket to come out here an visit us. It was awesome to have her here for a week. She lives in Wisconsin and we live in Colorado, so we don't get to see each other very often.
Do you think re-gifting is okay?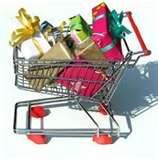 Sure do. I don't do it often, and I usually don't use it as a gift, I just give it away. But if I receive something that I won't use or something I already have, I would rather give it to someone who I know can use it or donate it.
Sponsors: Day Nine Blog Party Question is Brought to you by jaC Jewelry, Cutie Covers and Sassy Baby.
VIP BLOGS to visit are Parent Reviewers , Mom Most Traveled, Mommy Zabs, MomStart, HipposToes, Run DMT